Posts Tagged 'shocks'
PYSpeed – Porsche OEM Style Wheels
Add some Stuttgart style to your VW or Audi with some Porsche OEM Style wheels. For You Porsche owners, why pay thousands of dollars at your dealership(AKA stealership;) for the same style wheels.
For VW and Audi owners with 5×112 it's easy to get the Porsche style wheels on your ride by getting a set of 5×112 to 5×130 adapters. Audi Q7 and VW Touareg owners the 20″ plus wheels bolt right on without the need for adapters! Get a really Custom look that is daring and uber cool!
OEM Style wheels have a lifetime structural warranty covers all wheels with factory imperfections only and also have a 1 year finish limited warrnty.
Save money and add style! Click here for styles and fitments: http://www.pyspeed.com/Porsche-Replica-Wheel-s/820.htm
Available in 18″-22″ depending on application.
Categories:

Audi, BMW, Carbon Fiber, Exterior, Lexus, Mercedes, Performance, Porsche, Volkswagen, Wheel
3M, ac schnitzer, ADV.1, ARKYM, B+G, Bilstein, breyton, Carbon Fiber, Cayenne, colors, custom, dampening, dampers, Di-Noc, dinan, Eibach, Forged, H&R, handling, HRE, iforged, J12, lowering, panels, parts, performance, Q7, rims, shocks, springs, tires, Touareg, wheels
KW Coilover systems are engineered to elevate your confidence in driving performance. KW uses the best material to prevent corrosion and inspire confidence to allow you to push you and your cars limits to the next level. People spend thousands of dollars on power goodies, x-pipes, filters, in takes, etc. and none of those really can provide the instantaneous endorphin rush as set of KW coilovers. You don't have to pay hundreds of dollars to get on a dyno to see if you may have gained a couple of pony's– you can feel it without even driving the car: Just by trying to shake the car. Get a set for all your cars and straighten all the roads at speeds you dreamed about.=)
KW Coilovers
Born on the track, raised for the street, KW is Europe's leading supplier of suspension systems. KW offers suspension solutions for nearly every vehicle application. With our three product lines we cover all the requirements of the market. In inox-line stainless steel technology and three different damping technologies for individual adjustment. The reasons why KW is the leader in coilover suspension: Composite spring perches for easy height adjustment and more suspension travel.
The 3 Variants
KW is the only supplier, offering 3 different dampening technologies
Variant 1: sporty-harmonic with KW factory pre-setup dampening
Variant 2: sporty and personalized with adjustable rebound dampening
Variant 3: race technology for the road with adjustable compression and rebound dampening. This patented valve technology is unique.
Clubsport Kit
KW Clubsport coilovers have been developed with KW motorsports technology. Designed for car enthusiasts who favours racetrack performance over regular street use. The KW Clubsports provide excellent tuning and handling characteristics.
inox-line
KW with its commitment to quality worked to set the standard in coilover manufacturing as the only manufacturer using inox-line stainless steel technology. KW "inox-line" coilovers with stainless steel technology are clearly superior to galvanized models with regard to corrosion resistance and in addition ensure smooth operation which was proven by the salt spray testing procedure that KW conducted in cooperation with the Technical University of Esslingen in 2002.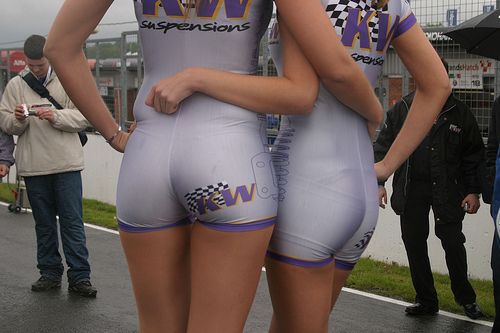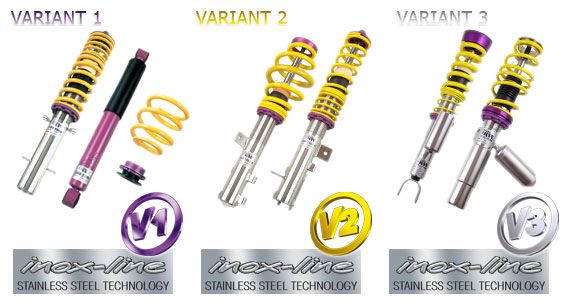 Categories:

Audi, BMW, Carbon Fiber, Exterior, Lexus, Mercedes, Performance, Porsche, Volkswagen, Wheel
3M, ac schnitzer, ADV.1, ARKYM, B+G, Bilstein, breyton, Carbon Fiber, colors, custom, dampening, dampers, Di-Noc, dinan, Eibach, Forged, H&R, handling, HRE, iforged, J12, lowering, panels, parts, performance, rims, shocks, springs, tires, wheels